Changing
the game
for
nature
VTRTs rescue 34 wild animals in Jul-Sep
Wed November 8th at 10:32am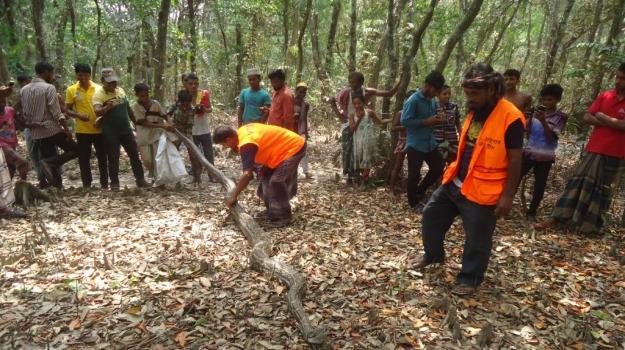 USAID's Bagh Activity's (a project implemented by WildTeam) field staff and the Village Tiger Response Teams (VTRTs) rescued 34 wild animals that strayed into the human territory and released the animals back into the forest in the third quarter (July-September) of 2017.
The wild animals included 26 snakes, two deer, three monkeys, and one each of wild boar, Bengal monitor and crocodile. Of the wild animals, 15 were rescued from Sharankhola, 12 from Chandpai, five from Khulna and two from Satkhira Range and later released safely into the forest with support from Bangladesh Forest Department. With support from the Bagh staff, the VTRT members also produced reports on every rescue operation. USAID's Bagh Activity has been driving a social change for wildlife conservation in the Sundarbans periphery by minimizing human-wildlife conflict. To deliver a more enabling environment for human-wildlife coexistence, Bagh has been identifying the gaps in capacity and providing support to the VTRTs and local communities with necessary training and behavioral change interventions to reduce conflict incidents. This will aid in the overall conservation of tigers and reduce the unnecessary misery inflicted on local communities to help secure their support for conservation.
Wild animals often stray into the locality due to habitat loss, scarcity of foods, natural disaster and poor health condition. Bagh has been engaging local people and VTRT members to address the challenge of human-wildlife conflict and prevent retaliatory killings of wild animals. Bagh's intervention has been crucial in this area as the local community lacks necessary knowledge, expertise and logistics to rescue wild animals and release those back to the wild safely.