Changing
the game
for
nature
VTRTs organize tree planting campaign in Khulna
Tue October 10th at 05:28pm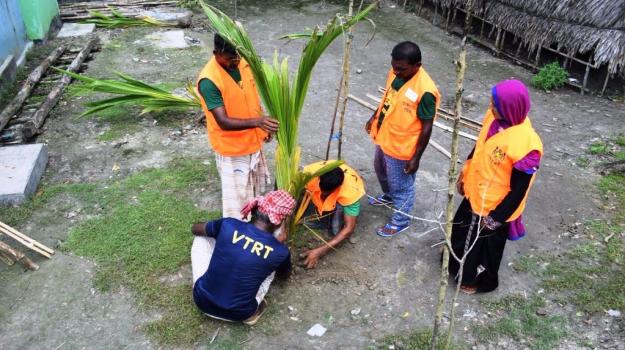 The Village Tiger Response Teams (VTRTs) organized a tree planting campaign from 20 to 24 September in all four ranges of the Sundarbans periphery to create mass awareness of the importance of planting trees.
More than 300 members from all 49 VTRT teams planted around 1,000 indigenous trees along the roads, and in the yards of educational and religious institutions in 76 villages bordering the Sundarbans during the five-day campaign. The tree planting campaign also engaged local communities and enabled the VTRTs to further intensify their social activities to promote community conservation. Officials from Forest Department and USAID's Bagh Activity (a project implemented by WildTeam), Union Parishad Chairmen and members, members of the Co-management Committees (CMCs) and Community Patrolling Group (CPG), Baghbandhus (tiger ambassadors), TigerScouts and social elites provided support to the tree planting campaign.
The tree species planted during the campaign include Sofeda (Sapodilla), Coconut, Kul (local jujube), Gooseberry, Bael (Aegle marmelos), Chambol, Mahogany, Neem, Koroi, Siris and Bamboo. Formed in 2008, VTRTs are a community-based volunteer group dedicated to conserving tigers in the Sundarbans. Over the years, VTRTs have become the largest network of volunteers for wildlife conservation in Bangladesh, with a total of 49 teams comprising approximately 340 volunteers. The VTRTs were awarded the 'Bangabandhu Award for Wildlife Conservation 2017' for their outstanding contributions to protecting critically endangered Bengal tigers in the Sundarbans. Bagh has been supporting this volunteer group since 2014.