Changing
the game
for
nature
VTRTs hold annual coordination meetings
Wed October 18th at 04:46pm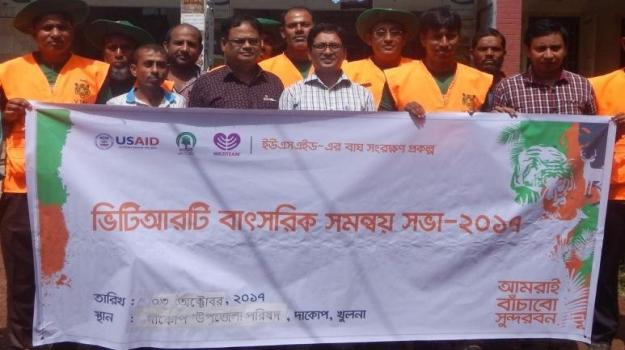 The Village Tiger Response Teams (VTRTs), a community volunteer group supported by USAID's Bagh Activity (a project implemented by WildTeam), organized annual coordination meetings in all four ranges of the Sundarbans to review their achievements, share experiences, and discuss the way forward for community conservation.
A total of 132 VTRT members participated in the coordination meetings (one in Satkhira, two in Khulna, one in Chandpai and two in Sarankhola range) with stakeholders from 20 September to 03 October. The objective of the annual meetings was to highlight the activities and achievements of VTRTs, improve the cooperation and collaboration among the VTRTs and other stakeholders, and solicit more support for community-led conservation activities. The coordination meetings allowed the VTRT members to share their experiences and thoughts with the Upazila Nirbahi Officers, Upazila Chairmen, Union Parishad Chairmen, UP Members, Forest Department officials, and representatives from Co-Management Committees (CMCs), law enforcement agencies (RAB, BGB, Police), and local media.
Apart from highlighting their achievements, the VTRT members sought greater cooperation and support from the stakeholders to help enhance their capacity and address the challenges they face. The Forest Department officials and representatives from the local administration and law enforcement agencies assured the VTRTs of their continued support to promote and sustain the activities of VTRTs for wildlife conservation in the Sundarbans.