Changing
the game
for
nature
USAID's Partner Security Team visits Bagh
Wed September 20th at 02:02pm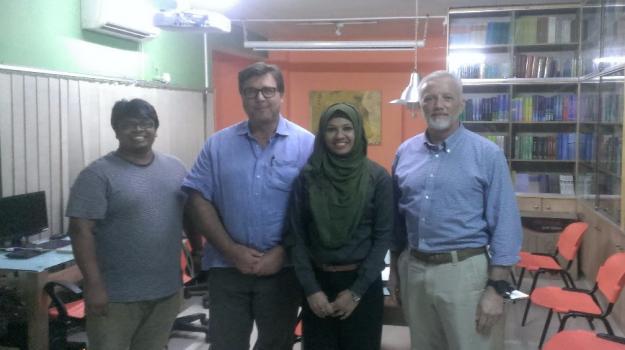 A team from the Partner Security Liaison Unit (PSLU) of USAID Bangladesh visited USAID's Bagh Activity (a project implemented by WildTeam) on 12 September 2017 to learn more about the Project and offer a network of resources on security matters.
The PSLU works to enhance communication between USAID and its implementing partners on security issues and provide information to help USAID-funded projects better manage and mitigate their own security concerns, especially field activities. During the visit to the Project Office at the Cosmos Centre in Malibagh, the two-member PSLU delegation comprising Mr. Richard Brock, Partner Security Liaison; and Ms. Sarmin Lubna Afrin, Security Specialist, held a view-exchange meeting with Bagh officials.
Mr. Gary F. Collins, Chief of Party; Mr. Iqbal Hussain, Program and Partnership Management Specialist; and Mr. Samsul Huda, Communication and Reporting Coordinator represented USAID's Bagh Activity at the meeting. Mr. Gary F. Collins briefed the PSLU team about Bagh and its work to save the tigers in Bangladesh's Sundarbans. He also highlighted the extent of security risks associated with Bagh's work on the ground and how the Project has been managing and mitigating the threats. The PSLU team appreciated the work being done by Bagh and expressed keen interest to make new resources available to help the Project better formulate its own risk management and decision making. They also requested the Bagh officials to coordinate with the PSLU team so that they can help the Project prepare for USAID site visits as necessary.