Changing
the game
for
nature
Shark expert shares his experiences at WildHour
Wed November 22nd at 08:51am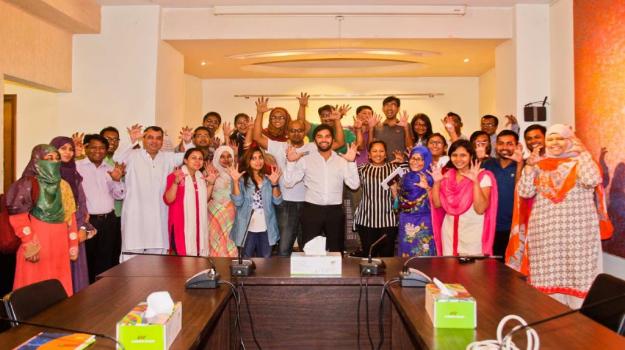 Noazesh Knowledge Centre (NKC) of WildTeam organized an event on 12 November to feature a presentation by Mr. Hamdan Chowdhury, a researcher and underwater videographer specializing in shark behavior.
In the event titled 'WildHour: Swimming with Predators' held at the Cosmos Centre in Malibagh, Mr. Hamdan shared his experiences working with two magnificent creatures, sharks and anacondas. "These misunderstood predators not only fascinate us but amaze us with their complex behavior, beauty and vulnerability," he said. He also stressed the importance of preserving fishes like the shark. "Fishes are not unlimited sources. They should be conserved. We need to survey and conduct research on sharks," he said. Demonstrating a stereotypical photograph of a great white shark with its hyper-extended teeth, he said people might perceive it to be in an attacking stance, but the photo is actually man-made, meaning it was shot in a certain tone and does not represent its actual laidback nature. Regarding anacondas, he recalled his visit to Brazil, where his team visited the Rio Formoso River in Bonito, the home to most of the anacondas found in the world. He informed that so far there has been only one reported attack on humans by an anaconda, implying that they really do not bother humans as shown in movies.
Mr. Saber Hossain Chowdhury, MP and president of the Inter-Parliamentary Union, was also present on the occasion as the proud father of the event's key speaker, Hamdan Chowdhury. He put emphasis on raising more awareness about sustainable development, citing how the current demands would put a strain on the existing natural resources. "It will take resources the size of two Earths to fulfill our current demands," he said. Cosmos Group Director Nahar Khan thanked Mr. Hamdan for coming up with a presentation of this nature. She also mentioned that Cosmos Group and its intellectual wing, Cosmos Foundation, are proud of the strides made by WildTeam and Noazesh Knowledge Center, and this event solidifies that fact. Alifa B Haque, a lecturer of Zoology Department of Dhaka University, moderated the event, which was attended by environmental and wildlife enthusiasts alike. United News of Bangladesh (UNB) and Dhaka Courier were the media partners of the event.