Changing
the game
for
nature
FD and Bagh staff receive first aid training
Tue September 26th at 05:26pm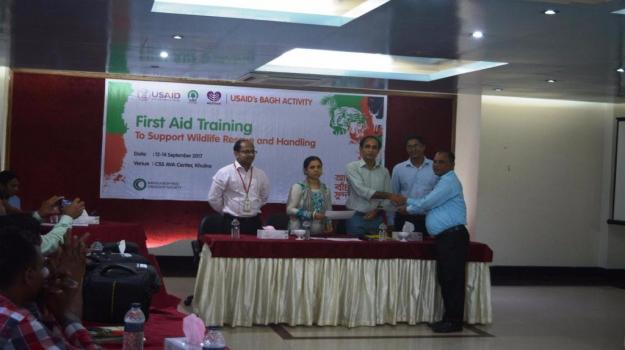 USAID's Bagh Activity (a project implemented by WildTeam) organized a three-day first aid training from 12 to 14 September to enhance the skillset of frontline Forest Department and Bagh staff to support wildlife rescue and handling on the ground more effectively.
A total of 25 participants, including 18 Forest Department and 7 Bagh staff attended the training held at CSS Ava Center in Khulna. Two trainers from the Bangladesh Red Crescent Society facilitated the training. The training covered a wide range of topics on first aid and emergency procedures including basic first aid and its application, chocking and its management, cardio pulmonary resuscitation (CPR), bleeding and its management, wound and burn management, bone fracture and immobilization of fracture, and management of poisoning, animal bites, and drowning. The facilitators used PowerPoint and audiovisual presentations with practical demonstrations to help the participants develop better understanding and skills to provide and co-ordinate first aid support during emergency situations.
The training was a part of USAID's Bagh Activity's efforts to minimize human-wildlife conflicts in the Sundarbans periphery. Knowledge of first aid and forest working safety is essential for wildlife conservation professionals and the people dependent on forest resources. First aid skills can play a crucial role in minimizing the impact of wildlife-human conflict incidents through saving the lives of both human and wildlife.