Changing
the game
for
nature
BaghBandhu annual workshop held in Khulna
Sun November 5th at 11:12am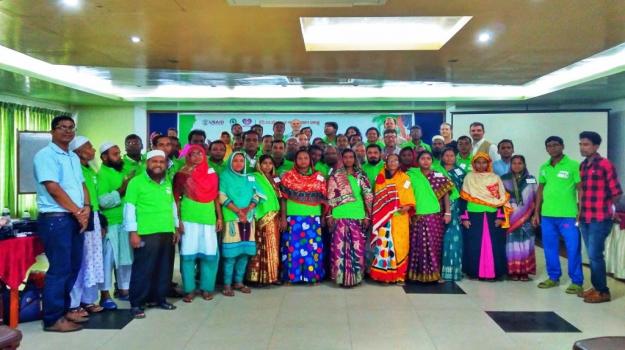 USAID's Bagh Activity (a project implimented by WildTeam) organized the annual workshop of BaghBandhus (tiger ambassadors) in Khulna from 25 to 26 October to further boost their engagement in community conservation and set the goals for next year.
A total of 51 BaghBandhus from 22 wards of the Sundarbans periphery attended the two-day workshop at CSS AVA Center, Khulna. The objectives of the event were to improve coordination among the BaghBandhus, reflect on the behavioral change examples and success stories, identify the challenges to conservation volunteering and discuss the way forward. The workshops included a visioning exercise to help the group discover its broad goals; group work to set up the targets for 2018, highlight the success stories and map the challenges and solutions. The BaghBandhus also took part in a cultural event as part of the workshop. Besides, a total of 14 BaghBandhus were awarded the 'Best BaghBandhu of the year 2017' for their contribution to community conservation. A group of six members won the prize for preparing the best proposal during the Visioning 2020 Competition. All the participants received certificates at the end of the workshop.
Mr. Gary F. Collins, Chief of Party of USAID's Bagh Activity; Mr. Renerio Acosta, Bagh AOR and Senior Environment and Climate Change Advisor of USAID Bangladesh; Mr. Steven Cooper from the Department of Defense/Office of the Defense Cooperation; Dr. Carol Mitchell, Dr. William (Bill) Schaedla and Special Agent Mr. Dan Coil from the Department of Interior; Mr. Iverson Long from Department of State/Political/Economic Section; and Ms. Sumaiya Firoze, Natural Resource Management Specialist of USAID Bangladesh were present at the award giving and closing ceremony among other Bagh officials.